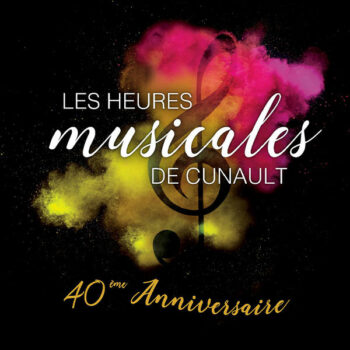 This year 2023 marks an important anniversary with the 40th edition of the Festival Les Heures Musicales de Cunault and the arrival of a new artistic director.
As this is an anniversary year, the Festival programme will be exceptional with young artists and exceptional ensembles.

Four concerts are offered this summer every Sunday between 16th July and 6th August.

This year the artistic direction of the Musical Hours is entrusted to two talented young musicians and teachers: Amandine Duchênes, pianist, vocalist and Thomas Pellerin, harpsichordist, organist, organ teacher at the conservatory of Angers.

Both are keen to help us discover talented young artists with the aim of bringing musical excellence to all audiences.

Faithful music lovers of the Festival will find artists they have already met such as Romain Leleu and will discover with the new spectators of the Heures Musicales de Cunault new talents also recognized on the national and international scene.

Have a good 40th season!
Sunday
16th July
2023

8:30 pm – Church of Trèves –

Chamber Music

Jean-Frédéric Neuburger, piano
An exceptional soloist and composer with an international career.
Sarah Nemtanu, Violin
Concertmaster of the Orchestre National de France, renowned soloist and chamber musician.
Grégoire Korniluk, cello
Principal cello of the NDR Orchestra Hamburg These three leading soloists from international orchestras unite around their love of chamber music to explore the great repertoire of the piano trio. With their rich backgrounds and obvious talents, the three musicians deliver unique interpretations of the repertoire's masterpieces, making them resonate with the musicians of their generation. An ideal opening to the 40th festival for those who want to discover renewed classical music.

Programme

Wolfgang Amadeus Mozart : Trio in B flat
Ludwig van Beethoven : Trio No. 4 the spirits
Felix Mendelssohn : Trio No. 1 in D minor, Op. 49 (MWV Q 29)


Admission €25 – Free for children under 18.
Youth rate -26 years old: 15€.
Support rate: from 30 euros

Sunday
23rd July
2023

5pm – Cunault Priory – Organ recital

Thomas Ospital

,

titular organist of the great organ of the church of Saint-Eustache in Paris.

Young organ prodigy, winner of five first prizes from the Conservatoire National Supérieur de Musique et de Danse de Paris in improvisation, harmony, counterpoint, fugue and forms. For four years he has been the first organist in residence at the Maison de la Radio, working with the various musical groups of Radio France and taking part in numerous mediation projects aimed at making the organ known to as many people as possible.

His career as a concert performer has led him to play in France and abroad as a soloist, in chamber music or with a symphony orchestra. The Cunault organ should satisfy this ogre of improvisation and your appetite for virtuoso music.

Learn more: Thomas Ospital

Admission €20 – Free for children under 18.
Youth rate -26 years old: 15€.
Support rate: from 30 euros

Sunday
30th July
2023

8:30 pm – Church of Trèves –

Singing and Piano Recital

Soprano, rising star of opera singing in France, nominated for the 2023 Victoires de la Musique classique, Alexandra Marcellier is accompanied by Amandine Duchênes, pianist and vocalist for the European opera scene.

Don't miss the promise of the "piano-voice" duet of these two young women of temperament in the intimacy of the Saint Aubin church in Trier. Contrasts are guaranteed.

Programme:

Melodies by Rachmaninov

Zarzuela
Italian opera arias

Admission €20 – Free for children under 18.
Youth rate -26 years old: €15
Support rate: from €30

Sunday
6th August
2023

5pm – Cunault Priory

– Trumpet and Organ Concert

A world-class duo for these "best of the best of their generation" and faithful friends who tirelessly revisit the "trumpet and organ" repertoire in programs as varied as they are unexpected. With their luminous and virtuoso playing, Romain Leleu and Ghislain Leroy will take you on a creative journey that knows no barriers of style or period. Don't miss the finale of the 40th Musical Hours of Cunault in the Priory.

Programme:

Jérémiah Clarke
Jean-Sébastien Bach
Camille Saint Saëns
Erik Satie

Admission 20€ – Free for children under 18.
Youth rate -26 years old: 15€
Support rate: from 30 euros