Organ of the priory of Cunault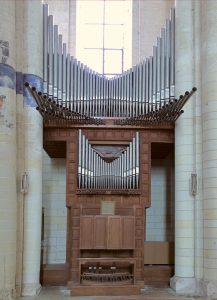 The organ of the Priory of Cunault was ordered in 1972 and received in 1977. It was thanks to the intervention of Georges Pompidou, former President of the Republic, who was visiting Cunault on August 28, 1968, that the construction of this instrument could be carried out, in spite of the negative opinion of the Beaux-Arts, which put forward architectural imperatives and in view of the absence of a gallery.
Despite the small size of the area (less than half that normally required for the construction of an organ of this size) the organ builder Boisseau achieved the feat of building an instrument with a mechanical transmission of 37 stops, i.e. 3074 pipes, distributed over four manuals and a pedalboard.
It is the second largest organ in Maine et Loire after the one in Angers Cathedral. Honoré de Balzac defined this instrument as follows: "The organ is a whole orchestra, to which a skilful hand can ask anything".
Much appreciated by organists, the organ of the Priory of Cunault lends itself to a very wide repertoire. In an effort to promote young organists, the association of the Friends of Notre Dame de Cunault, created in 1972, launched in 1996 "le Mai de l'Orgue (Organ May)". Every Sunday in May, a recital is given by a promising young organist from a regional conservatory or the national conservatories in Paris or Lyon.
This organ has two characteristics:
its ground-level layout allows everyone to follow the organist's playing/strong> and this proximity creates an intense communion between the artist and his audience,
its high proportion of chamade reeds, which gives it a particular brilliance.
The organ builder BOISSEAU, one of the greatest in France, is among his achievements:
The great organ of the Cathedral Sainte Réparate in Nice/li>
The great organ of Monaco Cathedral
The great organ of Notre Dame Cathedral in Paris
The organ of the Royal Chapel of Versailles
The great organ of the Royan basilica
The organ of the church of Sainte Radegonde in Poitiers