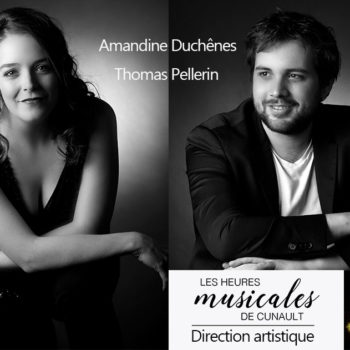 The association "Les Amis de l'orgue de Cunault" has entrusted the artistic direction of the 2023 season to Amandine Duchênes and Thomas Pellerin, two young artists from Anjou who are keen to perpetuate the tradition of the festival and give it the impetus it needs to open up a new decade of music and discovery.
"Excellence" and "Openness" characterise our vision of the artistic direction of the Heures Musicales de Cunault. "Excellence" because for 40 years, our predecessors have worked to offer the public quality concerts. The very name of the festival evokes for many people an artistic requirement that we wish to perpetuate. "Openness" because, although exceptional, we wanted to offer a programme that would appeal to all audiences, initiated or not, by proposing attractive prices.
Imagining a programme with four hands allows us to complement each other's artistic ideas. First of all, we wanted to pay tribute to the original essence of the festival: the organ. Thomas Ospital, a young organist of our time, will do us the honour of giving a recital at the Priory. The organ will also play an accompanying role in the concert by Romain Leleu and Ghislain Leroy, while chamber music will have its place with the Nemtanu-Neuburger-Korniluk trio. Finally, vocal music will be represented by Alexandra Marcellier, revelation lyric artist of the 2023 Victoires de la Musique Classique.
The "Mai de l'orgue" will have a new formula: young students from prestigious artistic schools will offer training around the organ, which will sometimes be a soloist, sometimes an accompanist. The festival is made possible every year thanks to the dedication of the office and volunteers who work to offer you the best. We hope to see many of you throughout the season to celebrate these 40 years together.
Amandine Duchênes and Thomas Pellerin
Artistic directors of the 40th Heures Musicales de Cunault Festival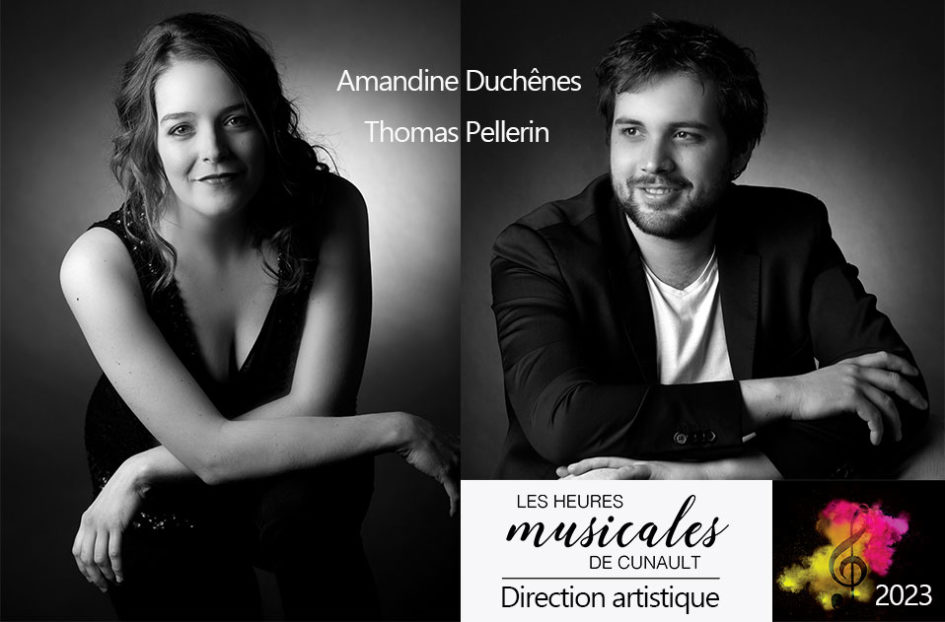 Amandine Duchênes is a pianist and vocal coach. A graduate of the Conservatoire National Supérieur de Musique et de Danse de Lyon, she works as a freelance in the most important European opera houses: Staatsoper Berlin, Liceu Opera in Barcelona, Zürich Opera, etc. The next season will see her collaborate with the Monnaie de Munt (Brussels) and the famous Glyndebourne Opera Festival (England). In addition to her work as a conductor, Amandine gives recitals and accompanies internationally renowned choirs such as the Radio France Choir.

Thomas Pellerin is a harpsichordist, organist and organ teacher at the Conservatoire à Rayonnement Régional in Angers. He is titular organist of the great organs of the cathedral of Saint Maurice in Angers. A graduate of the Conservatoire National Supérieur de Musique et de Danse in Lyon, he took part in the Organ May in Cunault as a young musician before accompanying his own pupils for several years. He has been a regular performer at the Musical Hours of Cunault.