The priory of Cunault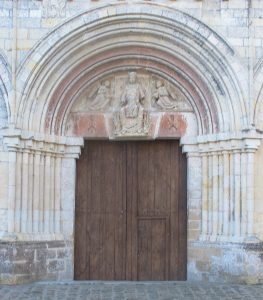 The Priory of Cunault is located 12km from Saumur and 35km from Angers, on the left bank of the Loire. Built by Benedictine monks from the 11th to the 13th century, the Priory stands as a masterpiece of Romanesque art, impressive in its size, balance and sacredness. A large vessel anchored on the banks of the Loire, the church gives off a strong impression of grandeur and peace. To accentuate the depth, the builders used the slope of the land and reduced the width of the building towards the east.
The origins of Notre-Dame de Cunault lie in the great monastic expansion of the early Middle Ages. The monks of the monastery of Her on the island of Noirmoutier, fleeing the Norman invaders, first retreated to Saint Philibert de Grandlieu. This was not yet safe enough and in 836 the abbot of Saint Martin de Tours offered them a rich estate in Cunault where they began to build a monastery. But the Normans came up the Loire and the community fled Cunault in 862 to take refuge in Tournus. In the middle of the following century, they went the opposite way, bringing back the relics of Saint Maxenceul, supposed to be the first evangeliser of Cunault in the 4th century.
A domain of the Benedictine abbey of Tournus, the priory of Cunault was able to undertake the construction of its church around the existing bell tower around 1100, thanks to the important gifts made by the counts of Anjou. The construction work began in the east and progressed westwards throughout the 12th century via the three entrance bays, marked by a clear Angevin influence.
Very impoverished by the Hundred Years' War, then plundered by the Huguenots, badly managed by the commendation system, i.e. the abbot no longer resides on the spot, the monastery will only house a few monks until 1741, the year of its pure and simple suppression. In 1749, half of the building, the choir, was sold to a farmer who used it as a barn, and the other half became the parish church, the neighbouring church of Saint Maxenceul having collapsed during a hurricane.
Prosper Mérimée was responsible for the restoration of the building between 1842 and 1866 under the direction of the architect Joly-Leterme. The tall, powerful columns are all crowned by capitals which are a pictorial and symbolic illustration of man's weaknesses and the duties of the Christian. The church was once entirely painted: a few remnants remain on the walls. Of the important treasure of the former abbey, only the hunting of Saint-Maxenceul, which dates from the 13th century, and a capital of the 15th century remain.