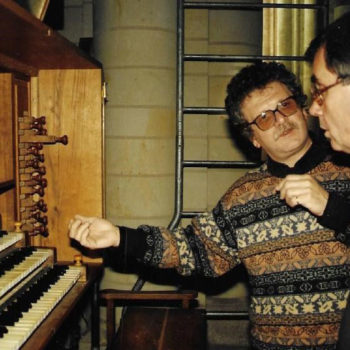 Our association, recently renamed "Les Amis de l'Orgue de Cunault", wishes to pay tribute to the Boisseau family, distinguished organ builders from Poitiers, whose last member of the dynasty, Jean-Loup, passed away on 29 January last, a few months after his son Jean-Baptiste.
In the Boisseau family, the passion for designing and restoring organs has been passed down from father to son. Jean-Loup was initiated by his father Robert and worked on the restoration of the organs of the church of Sainte Radegonde in Poitiers, Notre Dame in Paris, the Basilica of Saint-Sermin in Toulouse, the Basilica of Saint Denis and the Royal Chapel in Versailles.
For Jean-Loup Boisseau and our association, the adventure of the Organ of Notre Dame de Cunault began in 1972.
After the President of the Republic, Georges Pompidou, convinced the administration to build an organ in the Priory, despite the absence of a gallery, its construction took several years. As a result, the young organ builder – then 32 years old – was put to the test and had to submit to a very restrictive set of specifications: building a single-storey organ in a cramped space between two pillars of the right transept. Nevertheless, he succeeded in designing and building this magnificent mechanical instrument with 37 stops and 3074 pipes distributed over four manuals and a pedalboard. The large proportion of reeds (10 out of 37) placed in a chamade gives it its very special appearance with its horizontal pipes on the front of the case.
The reception of the instrument took place in 1977 and since then it has been the pleasure of organists and the public for its shimmering tones which, if it lends itself to a very wide repertoire, requires great virtuosity from the artists to make it vibrate and sing during their performances.
They pay tribute to the organ builder Boisseau
Bertrand Cattiaux, a renowned organ builder who was his main disciple and worked alongside him for more than 20 years, tells France Musique: "The Boisseau organ builder was an essential player in the second half of the 20th century. For my generation he is a reference who left his mark on the restoration of historical organs. I am trying to pass on everything he taught me".
François Tonnelier, founder of the association of the Friends of the Cunault organ and of the "Heures Musicales de Cunault": "As François Espinasse, organist and professor of organ at the CNSMD in Lyon, writes, Jean-Loup BOISSEAU was an immense organ builder, a subtle and benevolent man.
The association "Les Amis de Notre Dame de Cunault" entrusted him in the 70's with the construction of the organ of which we are so proud. He overcame the many difficulties with great talent and professionalism, but also with kindness and availability.
A great friend of our association, recently renamed "Les Amis de l'orgue de Cunault", has gone. Thank you Jean-Loup.